Glossary and Map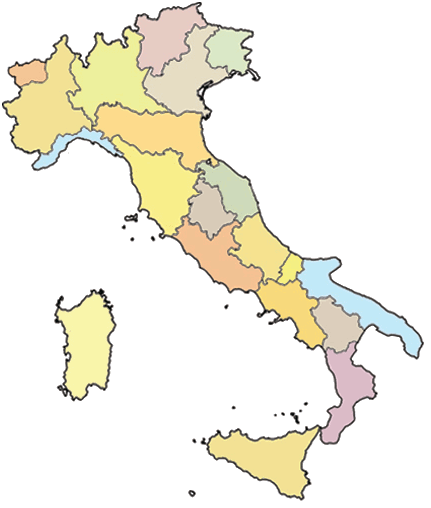 Description of Tariff:
Double

- for two people, in double bed or twin bed accommodation. The tariff quoted is for the room, not per person



Half Board

- includes the room, breakfast and dinner meals. The tariff quoted is usually per person. (Beverages usually not included unless specified)



Full Board

- includes the room, breakfast, lunch and dinner meals. The tariff quoted is usually per person. (Beverages usually not included unless specified)

Accommodation Types:
Agriturismo

Albergo Diffuso

Apartments

B & B

Country House

Hostel

Hotel

Inn

Resort Hotel

Sanctuary/Convent

Spa/Wellness Centre



1. Agriturismo


Accommodation on a working farm, sometimes just 2 or 3 rooms, but can be an apartment. Agriturismo is an establishment registered by the Italian Government to provide accommodation while maintaining traditional farming practices. Agriculture must remain the farm's primary source of income. Food served is largely produced on the property and age-old methods are maintained. A recommended accommodation type which gives visitors easy access to Italy's heritage and regional food, produced and prepared locally.



2. Albergo Diffuso


Guest room or apartments of varying sizes, scattered across the village within easy reach, belonging to the local municipality. Created by remote communities out of properties left empty by the population drift to the cities. There is a main reception in one of the properties, and from there guests are directed to their accommodation.



3. Apartments


An apartment that offers the traveller self-catering facilities. The Italian description is:
Monolocale – one bedroom apartment;
Bilocale – two bedroom apartment;
Trilocale – three bedroom apartment;
Mansarda – the attic.
Some apartments are weekly stays only, but others will accept minimum stays, e.g. 2 days. Check individual properties.



4. B & B


Many "bed and breakfast" properties in Italy have independent entrances. In Piedmont, the B & B rooms could be in a "cascina" [farmhouse], traditionally in the "L" shape. In other regions, the accommodation will be in restored buildings like Roman villas, historical residences etc. Some B & B accommodation has kitchenettes. Check individual properties.



5. Country House


Usually found in Central Italy, mostly in the Marche region, they are large family mansions on rural properties. May include more than one house on the property.



6. Hostel


Basic accommodation in dormitories, mostly with shared bathrooms.



7. Hotel


Mostly small, family-run hotels, the majority being 2 or 3 star accommodation.



8. Inn


Tavern with guest accommodation, mostly established as staging posts for early horse-drawn postal delivery. The tavern provided the travellers with refreshments and meals. Basic accommodation unless the inn has been restored.



9. Resort Hotel


Holiday resort; could be a beach resort, skiing (alpine location) or rural (horse stables/equestrian).



10. Sanctuary/Convent


Traditional guest accommodation within religious orders, be it sanctuaries, convents or monasteries. Recommended for travellers who are seeking a peaceful, tranquil and restorative environment.



11. Spa/Wellness Centre


Usually in a thermal springs area or town. Spa/wellness treatments are not included in the accommodation tariff, unless offered in special packages.